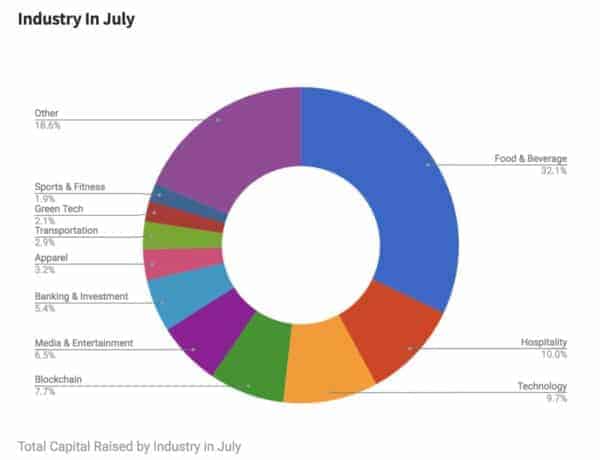 StartEngine has just published its monthly index of Reg  CF (Regulation Crowdfunding) campaigns and raises. According to their tally, July was a banner month with issuers raising $10.7 million – new monthly high for 2018. In aggregate, since Reg CF became usable in 2016, issuers have raised $127.9 million in total. While still a relatively small amount, typically firms that are using this securities exemption are quite small. The funding under Reg CF is capped at $1.07 million thus it will take some time for this sector of crowdfunding to scale once regulators or Congress improve the rules.
As for the crowdfunding campaigns during the month of July, StartEngine reports the following offerings made it to the top 10:
Inside.com – SeedInvest @ $915,467
Keezel – StartEngine @ $639,415
Altcoin Exchange – Wefunder @ $626,593
Black Momma Tea & Cafe – Wefunder @ $583,750
Gin & Luck – SeedInvest @ $579,557
Dash Labs – SeedInvest @ $525,172
Tesseract Space – Wefunder @ $502,395
Travis Midtown – NextSeed @ $461,300
StorEn Technologies – StartEngine @ $403,180
Texas Brewer Support – Wefunder @ $399,752
The consumer facing focus of issuers continues as issuers in the Food & Beverage ($3.3 million) industry captured 1/3 of the capital raised placing this sector at the top of the list. This sector was followed by Hospitality ($1.04 million) and then Tech ($1.01 million).
StartEngine garnered 46% (24) of the new Reg CF filings in July followed by Wefunder & SeedInvest (tied at 7 each).
Both California and Texas continue to be leading states when it comes to Reg CF crowdfunding. Currently, the number of active campaigns during July was pegged at 51 – up by five from month prior.
Source: https://www.crowdfundinsider.com/2018/08/138048-reg-cf-hits-new-monthly-high-in-july-crowdfunding-10-7-million/